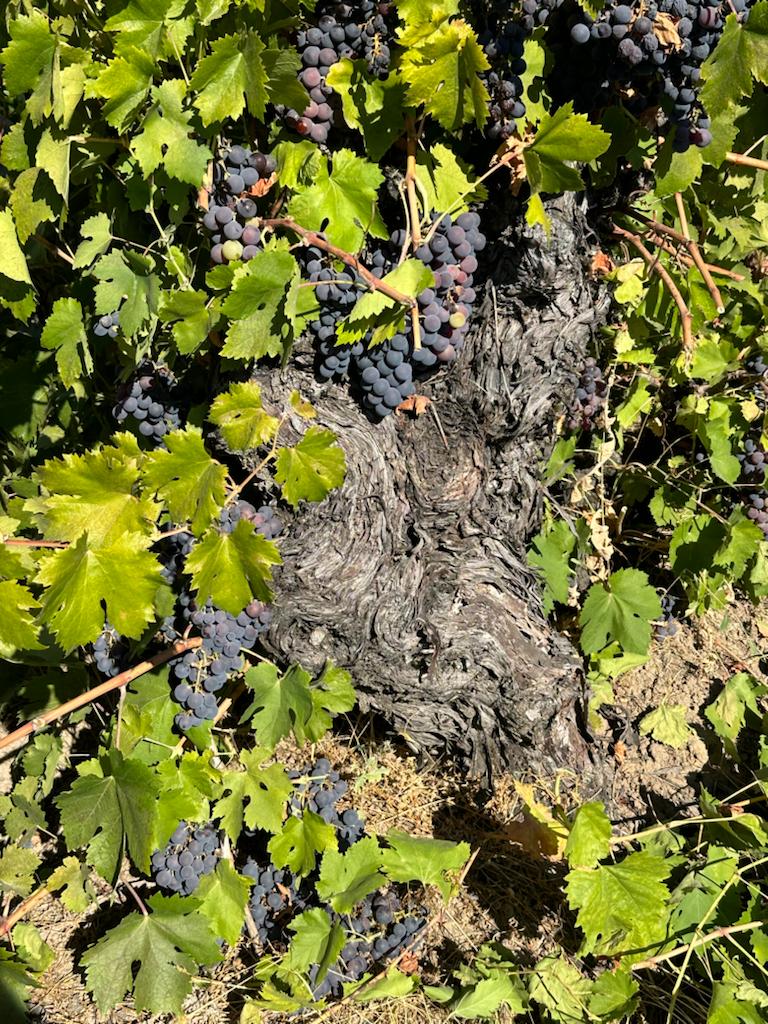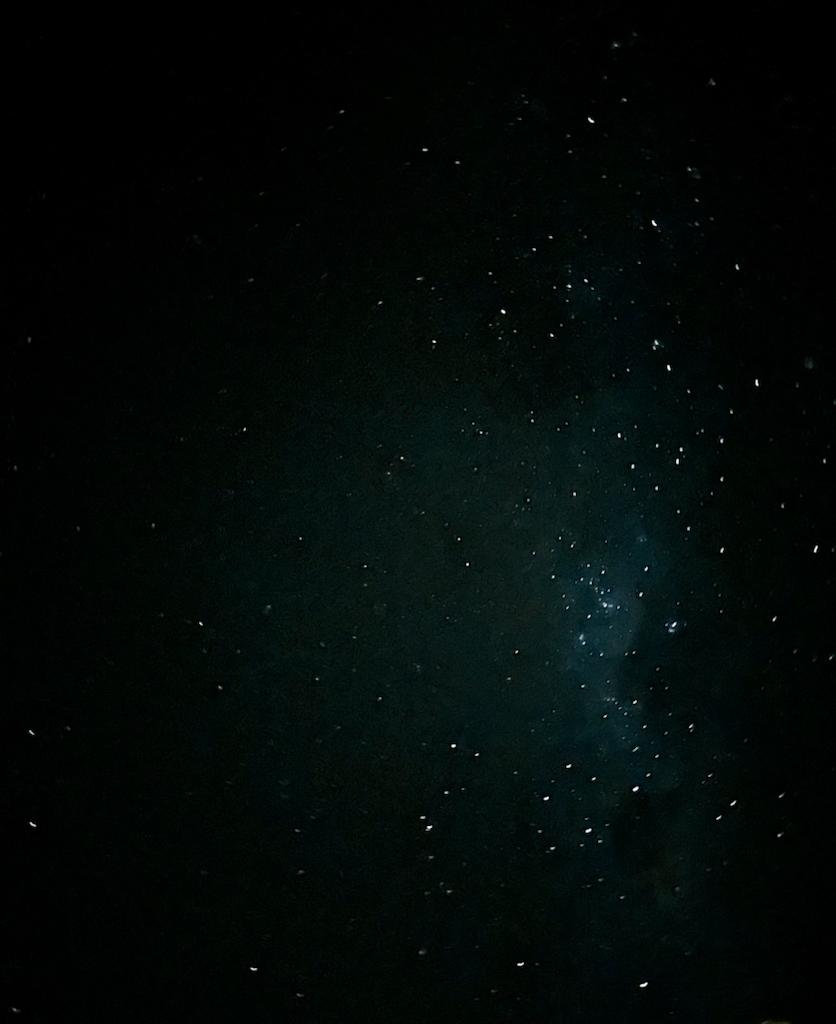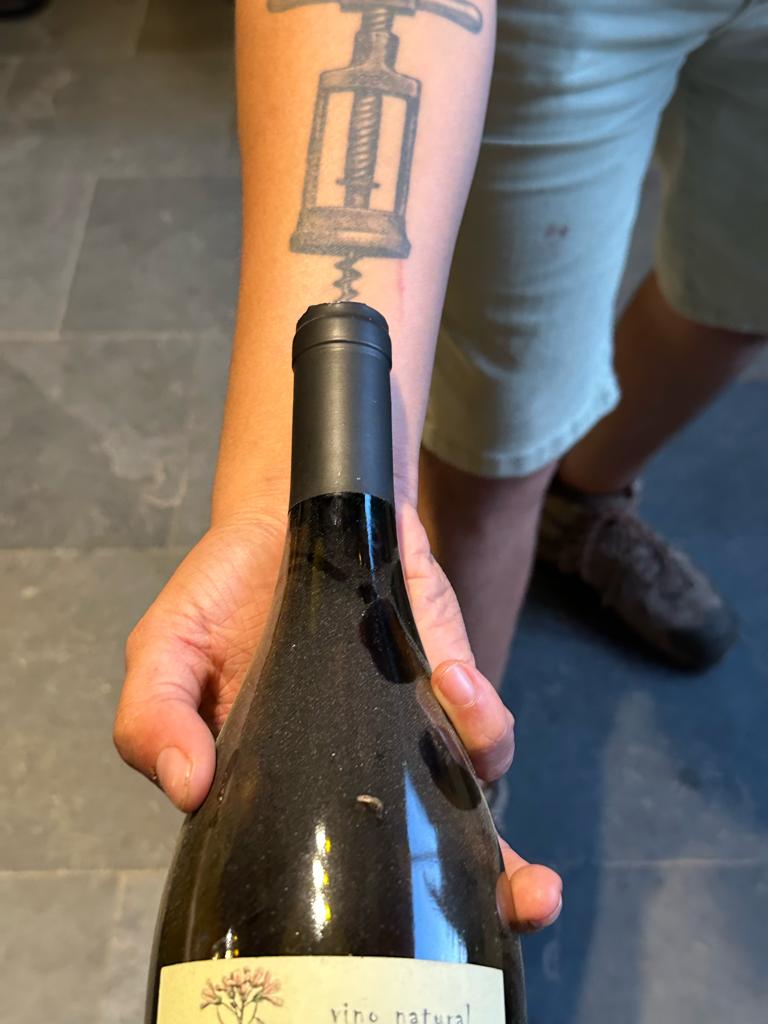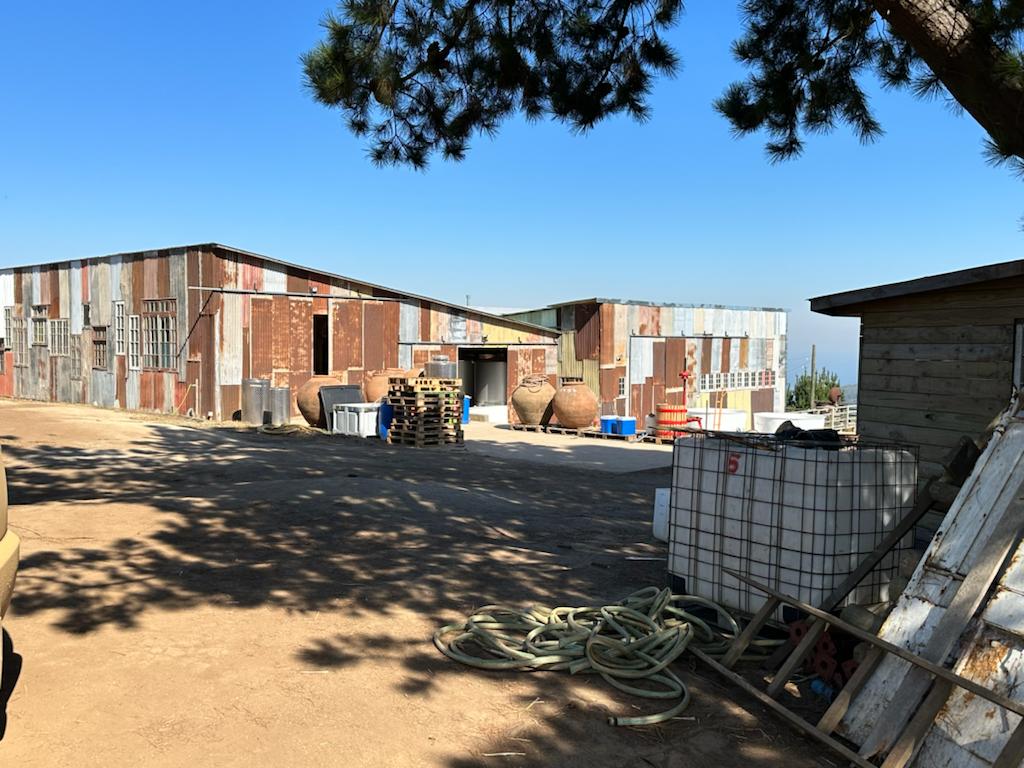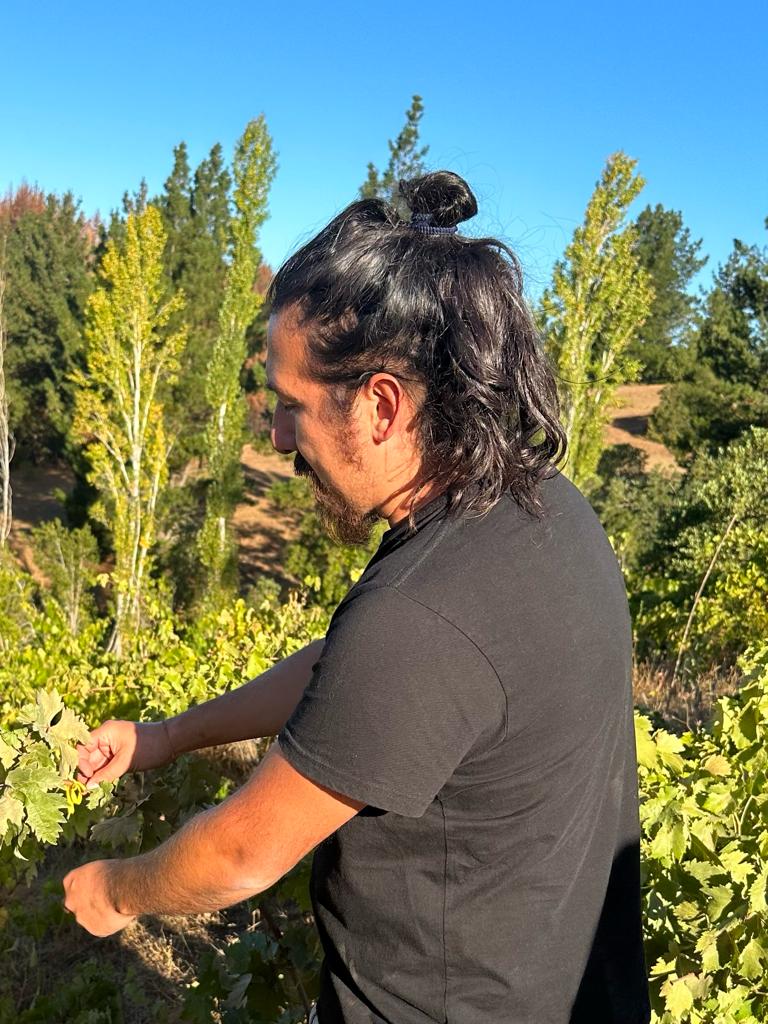 It's all in the Family
Our friend Jeffrey Wolfe of Wolfe Wines visits the Itata Valley
4/12/2023

Having just returned from Chile where my son and I helped a few friends in the business make some wine, actually we just cleaned up after they made the wine, a historical ladder of winegrowing and winemaking is on display here. Artificial Intelligence has not been deployed here yet nor has the Electric Car. Chile is way, way old school at least when it comes to making great wine with indigenous grapes from plants that, have in some cases, been producing for centuries.

We traveled to the Provence of Itata where this historical, cool-climate region is dominated by plantings of Carignan, Muscat of Alexandria, Semillon, Torontell and Pais (AKA Mission). The first vines are said to have arrived in the Valley in the 1550s, potentially making the region one of the first to be planted with vines in Chile. The region is roughly 60 miles from north to south and only a little less from east to west, the area is outlined by the junction of the Itata and Ñuble rivers with the vineyards clustered around many towns but most importantly Coelemu as it contains what most multigenerational winemakers think of as the Grand Cru village of Guarilihue.

The Pacific Ocean, with its cooling Humboldt current is the key to the wines that evoke the dazzling landscape of forested valleys, vines covered in the morning ocean mist, the barren, unfriendly hillsides of the northern valleys, the granite soils of the Cordillera de la Costa. These wines have a bewitching character of their own.

The magic of the grand cru vineyards in Guarilihue lies within its special granitic soils and is home to dry-farmed bush vines. The regions cool coastal winds and clouds keep the winegrowing season long, giving the wines great potential for developing the complexity needed for high quality wine becoming the "Burgundy of Southern Chile". With a few other exceptions in the world, this region avoided and continues to avoid the destructive louse, phylloxera. Chile's, geographical isolation, via the Cordillera de la Costa keep her free of the aphid allowing growers to maintain centuries old vine material.

These five multigenerational growers continue to be the reference point for raising indigenous wines from the south. Each grower employes the same techniques, naturally; Hand harvested. native yeast, whole skin fermentation, manual punch downs, cool maceration, manual basket press, aged on lees in concrete sphere tanks clarified and bottled by gravity and minor amounts of sulfur.


VeraSolis - Ronald Vera & Pablo Solis, Guarilihue

If Gaurilihue had a protective mafia family these two would fit the bill. Childhood friends and families that were the original settlers here, they own and control much of the vineyard holdings in the region. 3rd generation wine growers these two know everything that happens in the region. Both are keen stewards of the grape , yet Pablo seems like the enforcer with a boxing history and Ronald the politician, keeping the peace with smart diplomacy, much like the wine version of "The Godfather". Ancient equipment fills the dimly lit winery, with old Rauli Pipes (indigenous wood vessels still in use) no pumps or tractors only mules, horses and human sweat along with a 1953 Range Rover juxtaposed against a new "Chilean" single concrete tank that arrived weeks before our visit. Time has forgotten this place. Thank g-d.


Drink Moscatel de Alejandria 2021

Known by me as my slutty white PetNat… Super over the top aromatics-100% Muscat of Alexandria from 80 year old vines rooted in chalky soils. Wild floral aromas and hints of orchard fruits and peaches. Dry and quite fresh, with some citrus flavors and good acidity. The perfect beach bubbler!


The hard scrable and flexibility of the Mapuche Peoples who inhabit this land have deep connections to the vine and also to the indigenous struggle still on going. Roberto tends to 250-year-old vines as they continue to thrive in this struggle for existence. He is conscientious and respects life, plants and nature like no winemaker I have met with a calmness and direction that is celestial. His thoughtfulness is on display when he walks us to his nursery where he methodically raises new plantings from cuttings of the 250 year old vine material he finds in his home Tierre de Puma vineyard. The University of Concepcion has catalogued 2 new cross varietals in his vineyard that he is propagating and expects to plant in the coming years. He is a first-generation winemaker but he is considered one of the OG's in Itata. His wines are chiseled, statuesque, slightly wild and permeated with a sense of liquid minerality. He believes that by making wine with minimal intervention the true essence of the site can shine forward.


Drink Rivera del Notro Blanco 2020
This blend is made with three traditional varieties. Corinto is harvested first (earliest to ripen) then Muscat, then Semillon, last. Corinto is the same variety as Chasselas, and it is known for its higher acidity and minerality but with hints of smoked pork and tropical fruit. Semillon has a sense of cucumber here. The varietals are fermented separately, then blended. The final wine has a floral and spicy character.



Hacienda San Juan - Francisco Freire Allendes, San Antonio - Leyda Valley
Located only 5 km. from the Pacific Ocean, the vineyard is located on a tiny property of 6 hectares. The terroir of San Juan has favorable elements for wine development, with black volcanic clay soils and ancient granite/calcareous subsoils. The surroundings endow this area with exceptional characteristics for the production of high-end coastal wines. Francisco comes from the finance world and he and his wife have no children, yet have made their life's work to make the best Chardonnay, Pinot Noir and Syrah that they can from this tiny piece of land. Every facet of the winery is pristine, whether it be the manicured vineyards, the microscopically clean winery or the simple yet elegant lines of the winery's architecture that mimics a modern financial institution. The succession plan is to have their nephew be the custodian of the historic property as the 2nd gen steward and now that there is a great nephew, so a much longer potential future for these outstanding wines.


Drink Hacienda San Juan Pinot Noir 2021
If you blind tasted this wine you would never, ever think Chile, your frame of reference would be Beaune, maybe just out of the tank or barrel but the freshness and concentration is overwhelming. A bright ruby red color, elegant tannins and wicked aromatic complexity, evoking aromas of ripe red and black fruits and minerals.


After graduating from the University of Chile with a degree in Agronomy and Enology, Leo traveled for a decade globally working for multiple wineries doing research in soil science, geology and biodynamics. He speaks with humbleness and an authority that comes from listening to the land. His minimalistic style of winemaking and growing requires extraordinary decisions on his part, equal to the decisions he and his wife make about the 2nd generation they are raising 50 meters from the winery in their home at the end of the earth. He makes natural wines without the baggage. Refreshingly transparent and elegant, these wines are some of the most honest wines I have had from anywhere.


Drink Leonardo Erazo, El Tunel 2019
The 0.6-hectare vineyard El Tunel is made of 100% Cinsault planted in 1959. With notes of red fruits and a slightly salty flavor, this wine reflects the special relationship this grape has with Itata's breezy coast and granite hillsides. Noninterventionist wine making allows this graceful wine to speak for itself and its humble surroundings.



Maturana - Jose Ignacio & Sebastián, San Fernando
Grape growers since 1973- and second-generation agronomist. In 2010, the family home, over a hundred years old built with old techniques and Chilean clay tile was destroyed in a massive earthquake. It was then when they had to start from scratch, life as a family changed and they decided to build a winery in the heart of the Colchagua Valley. Maturana is a unique winery that is actually 2 in one. Half of the winery is set for volume production and the other half for small, natural boutique winemaking where Jose & Sebastián's passions live. Always chasing amazing vineyards and fruit sources and now thinking to the future for the second generation who are already in college, you guessed it studying the business of Enology!


Drink Maturana Naranjo Torontel 2021

Baking spices, white tea, toasted almond, minerals and over ripe white peaches. intensely aromatic, with peach, apricot, lychee and orange peel leaping out of the glass. Brilliant amber color that leads to a textured palate that is more restrained with subtle stone fruit, orange and lemon citrus, sprinkled with spice, plus good cleansing acidity and a crisp, juicy finish.


Seek out these producers and their wines to taste the long history and bright future of Southern Chile!


Jeffrey Wolfe
Wolfe's Wine Shoppe
124 Miracle Mile
Coral Gables, FL 33134
P 305-445-4567
Jeffrey@wolfeswines.com